How To Choose A Dog Crate

Dog crates come in many different materials, shapes and sizes, and prices will vary according to both size and quality. My aim is to help you choose the perfect crate for your Cocker Spaniel so that he enjoys it for years to come.


Which Type Of Crate Should I Choose?

Which type you choose - wood, plastic, heavy duty wire, or fabric - will largely depend on how you plan to use it.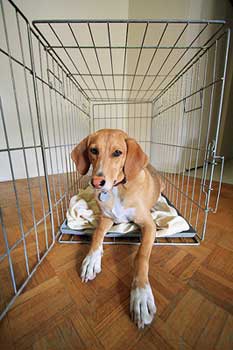 Using Your Pet's Crate For Traveling?

If you're planning to use the crate mainly for traveling in the car, most types would be suitable because they will all keep your pet contained during transit and will stop him from climbing the seats or distracting the driver.

I'd like to point out that while most solid crates are sturdy enough to give your Cocker Spaniel adequate protection, fabric crates are unlikely to offer much protection at all if you were to be involved in an accident.

Most wire cages conveniently fold flat for easy carrying (or storage) and, if you're staying in a hotel, they can be quickly reassembled in the hotel room.
If you plan to travel abroad with your Cocker Spaniel you'll need to make sure that the crate you choose is airline approved otherwise your pet won't be allowed to travel.

The rules often differ between airlines so I recommend you get in touch with the airline you plan to use before you go to the expense of buying your crate.

Pet travel services will usually offer airline approved dog carriers for rent - usually made with a wooden frame, with wire grills and doors. The service will also handle your pet travel and liaise with the airlines on your behalf.
Using A Dog Crate As A Carrier?

If you plan on using the dog crate simply as a carrier, and your Cocker is small and light enough to be carried easily, wire, plastic or fabric will be fine - however, the fabric and some wire crates are unlikely to take the weight of your fully-grown, adult Cocker Spaniel.

You'll still be able to use them to confine your dog in the car, and/or use them as indoor kennels or dog beds.

If you plan to use the cage to carry your adult Cocker Spaniel around, you'd be better off choosing one of the wooden or plastic carriers that have wheels to allow you to tow the crate; even better if it's got a retractable handle, similar to holiday luggage!
Using A Dog Crate As A Bed?

If you're simply looking for a bed and a place for your Cocker to 'call his own', then any type of crate will suffice unless, of course, he's a 'chewer', in which case I'd recommend a wire crate.
Choose A Dog Crate That's Easy To Clean

Your pet's cage will need to be cleaned regularly to keep it smelling fresh and free from bacteria, so the easier it is to clean, the better!
Wire crates usually have a tray fitted into the base which can be easily removed for cleaning and the crate can simply be wiped clean with a damp cloth.
Plastic crates can be cleaned in the same way. These are usually much easier to clean and don't take as long to clean as those made out of wire - a couple of wipes and you're done!
Fabric crates are not so easy to keep clean as they need to be sponged clean and can easily stain, however, there are some that are designed so that the material cover may be removed from their plastic or wire frame to allow them to be washed by hand.


Choose The Right Size Dog Crate

It's important to choose the right sized cage for your pet - too small and he may be cramped, too large and he may use one end as a toilet. .
The right sized cage should be big enough to allow your pet to sit, stand, turn around, and lie down comfortably.
If you're buying a crate for your puppy, make sure you buy one that's big enough to house him when he's a fully grown adult Cocker, and although it will be too big for him now, it will be easy to section part of it off to stop him from sleeping in one end and using the other end as his 'toilet'.
As your puppy grows, you can gradually enlarge his sleeping area.
Very often, manufacturers will recommend which breeds will be better suited to their different cage sizes, which is very helpful.
If you plan to travel with your Spaniel, I recommend you check that the cage you choose will fit into the car and that the boot lid (if you have a hatch back) will close fully.
You can buy a specially shaped carrier to fit into the back of an estate or hatch back, where the top slopes to follow the line of the boot/hatch door.


Choosing Dog Crates: Summary
We've seen that there are many different types and sizes of crates available, with prices to suit all pockets.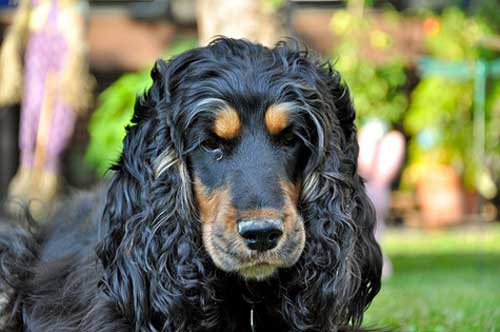 Prices may also vary between manufacturers so, when shopping for dog crates - take your time and have a good look around!
Your choice will depend primarily on how you intend to use it. If you intend to do lots of traveling with your pet, what type of travel will that be? If it's by car, I recommend a wire or plastic cage.
If you are planning a lot of air travel, then I recommend you take a look at the plastic airline approved dog carriers or hire a specialist wooden one.
If you're simply looking for something to house your Cocker Spaniel, your choice is open to any of the cages available.
Not all dogs and puppies will take to a crate straight away so you may need to train your pet to accept and use it, but don't worry, you'll find some articles (listed below) on crate training to help you teach your dog to love his crate in no time at all!


Relevant Titles In The Crate Training A Puppy Articles

Essential rules of crate training - definitely recommended reading to help you and your puppy get the best out of the training.
Crating your puppy - learn how to teach your puppy to use his crate, and more importantly, to love his crate right from the beginning!

Crating a dog - if you're training an older, adult dog this is the page for you. The training is similar to that for puppies, but it's more focused towards the older dog who's never been in a crate before, or where he's had previous negative experiences in crate.


Enjoyed this page? Click 'Like'!

If you enjoyed this page, please click on the 'Like' button below and tell your friends about us. Thank you.

Top of Page
Top of Page