Dog Carriers

Transport Your Pet Safely And In Style With A Dog Carrier!
Dog carriers are essential for the safe and comfortable transportation of your pet and they're very useful in circumstances where:
you need to take your pet to see his vet,


he needs to be kennelled,


you're taking him to puppy or training classes,


visiting friends or relatives,


taking your Cocker on holiday, (lucky boy!) or


you simply want him with you in the car.
The type of carrier you choose may well depend on the size of your pet and how you intend to travel.
If you decide to take your Cocker Spaniel on holiday with you, a dog carrier is ideal.
However, if you're flying abroad you'll need to ensure you choose one of the airline approved dog carriers as without this it's unlikely he'll be allowed to travel with you.
Pet carriers have a den-like quality which tends to make dogs feel safe in them - it's for this reason they're often also used as beds.
Types Of Dog Carrier

Pet carriers come in many different styles, sizes to suit each breed, and prices to suit most pockets.
The crate style carrier remains the most practical way of transporting your Cocker Spaniel and the most commonly used are either plastic or heavy-gauge wire.
Both types are very strong, well-ventilated, and will normally have a wire access door.
The wire carrier will probably have a removable plastic floor tray for easier cleaning and may well fold flat.
Both types of carrier will need padding and a piece of vet bedding, or a couple of dog blankets, should add the comfort your Cocker needs.
Crate-like carriers are ideal for the medium to large breeds and are great for our Cocker Spaniels.
We recommend you consider a carrier with wheels and a handle (sometimes extendable and collapsible similar to luggage handles) which allow the carrier either to be pushed or pulled along making it much easier on your back - imagine having to carry your Cocker Spaniel in a carrier for any length of time!
Crate dog carriers are ideal for travelling in the car as they're non-crushable and can be strapped into the car using safety restraints.
Basket Dog Carriers

If you're a keen cyclist, why not consider a basket for the front of your bicycle?
The basket can be easily attached to the front of your cycle and removed fairly quickly, and your pet can be secured to the basket with a safety harness.
You may want to choose a basket that comes ready padded for comfort, if not, you could always add a couple of cosy blankets.
Some of the better quality baskets will have a padded chin rest and a useful pocket for a lead, a ball, and perhaps a small packet of treats.
Although a basket carrier fitted to a bike may not be entirely suitable for the adult Cocker Spaniel, it would be fine for an adolescent puppy.
If you'd like to take your adult Cocker with you when you go cycling, why not consider a tow-along instead?
Carriers For Small Dogs

Thanks to celebrity obsession with pampering small dogs, designer dog carriers are available with as much style and 'bling' as their owners.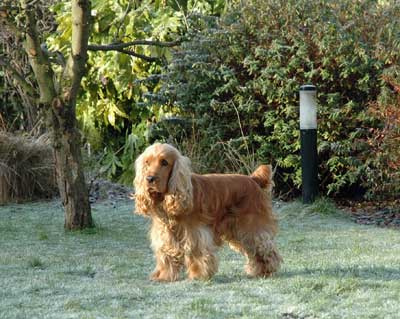 You'll find sling-style pet carriers, which allow your pet to be carried across the chest, backpacks, handbags and small shopping-type baskets that a small dog will fit into snugly.
These carriers are usually fashioned in natural fabrics such as cotton, hessian, denim, or synthetic materials such as polyester or nylon.
Solid-framed, rectangular, small dog carriers are often covered in a light fabric and have large mesh side windows with an opening at the top to allow him to pop his head out of the top of the carrier to watch what's going on around him.
Whilst small, designer carriers may be suitable for your Cocker Spaniel puppy, they are impractical for an adult Cocker and are unlikely to be approved by the airline companies.
Tips For Choosing A Dog Carrier

Pet carriers are meant to provide a safe means of transportation for your dog, so it's important to make sure that the carrier you choose is completely safe.
The frame of the carrier should be stable, solid, and preferably non-collapsible to help protect your Cocker Spaniel when he's travelling in the car.


Good ventilation is vital to your dog's safety and comfort, so it's important to ensure the carrier is adequately ventilated.


If the door to the pet carrier is spring-loaded, you will need to take care when opening and closing it so that the door doesn't spring back onto him.


Choose the correct size of carrier; he should have enough room to stand up and turn around, comfortably.


For me, dog carriers that are easy to clean will always win over those that aren't! Carriers that have a plastic base, preferably removable, are ideal. For those without a plastic base, you may be able to line it with a waterproof material which can be easily removed and sanitised.
---
When travelling with your Cocker Spaniel, don't forget to take a water bowl and a supply of fresh water for him - travel water bottles are available at all good pet stores.
Never leave him alone in a car on a sunny day - even if parked in the shade - for any longer than 30 minutes as the inside of a car will soon heat up.
If you need to leave your pet in the car, don't forget to leave windows open a couple of inches to allow a good supply of fresh air to circulate.
---
Relevant Titles

Let's set the record straight, crate training a puppy isn't cruel. Dogs love small spaces because they make them feel safe and secure. How many times have you seen a dog curled up under a dining chair or small table? Crating your puppy creates the same effect - learn more.
Benefits of crate training - if you're still not convinced, take a look at the many benefits that crating can give you and your puppy.

Essential rules of crate training - before you go any further, I recommend you read these basic rules to help you and your puppy get the best out of the training.
Crating your puppy - now it's time to get down to the nitty-gritty of learning how to teach your puppy to use his crate, but more importantly, to love his crate from the start.
Crating a dog - if you're training an older, adult dog this is the page for you. The training is similar to that for puppies, but it's more focused towards the older dog who's never been in a crate before, or where he's had previous negative experiences in crate.
Dog crates - these come in many different sizes, shapes, and materials and our page on choosing a dog crate will help you to make sure you get the perfect fit for your pet.
---
Enjoyed this page? Click 'Like'!

If you enjoyed this page, please click on the 'Like' button below and tell your friends about us. Thank you.

Photo Credits - In order of viewing:

1. Allie Couture at http://www.flickr.com/photos/alliecouture/4691907253/
2. Isselee at http://www.dreamstime.com/stock-image-two-english-cocker-spaniels-sitting-image15360341
3. Copyright of About Cocker Spaniels.com
4. Copyright of About Cocker Spaniels.com
Top of Page