Cozy Dog Blankets
A couple of dog blankets will keep your new cocker spaniel puppy warm and toasty and if it holds his mother's scent it will be very comforting for your puppy and will help to make his first night away from home a lot more bearable.

I Love My Dog Blankets Because....

I don't know of any dogs or puppies who don't have at least two blankets bought for them by their mommy!
They help to keep me warm and cozy and I use them in so many different ways, check this out: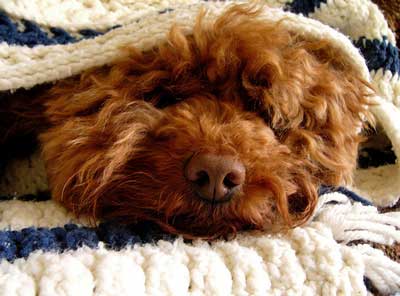 They can be laid on a cold tiled floor to help keep my little body warm.
When my mommy brought me to my new home, she wrapped me in my first ever blanket. She was thoughtful enough to leave my blanket in the whelping box with my canine mommy and brothers and sisters a week before I was due to leave so that it would smell nice and make me feel happy.

I recommend you do the same before your bring home your new puppy to give it a chance to get really smelly.
My mommy lets me up onto the furniture but I don't leave any dog hairs around because she covers the sofa with a couple of dog blankets. It keeps the furniture clean and protects them from my dirty paws, moulting fur, skin debris, fleas and parasitic waste.

Hey! Wait a minute, I don't have fleas!


Have you ever noticed when we're feeling a little under the weather we snuggle up on or under our blanket?
When I come home from one of our walks, dripping wet, my mommy lightly towel-dries me and then I curl up in my blanket to help keep me warm until I'm completely dry. Don't tell anyone, but my mommy puts the blanket on the radiator to warm up before she wraps me in it.

My mommy must love me very much!
Dog Blankets: All Shapes And Sizes

There are lots of different types of dog blankets; different shapes, sizes and colors and my mommy says they're not too expensive.
I've seen them in the pet store in all sorts of different colors, plain and patterned, knitted or woven and made from lovely soft materials such as cotton, wool, or fleece to help keep dogs and puppy warm and toasty!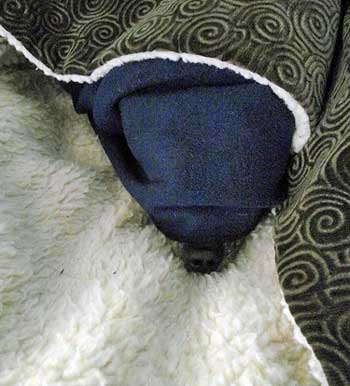 You can have your own name embroidered or printed onto your blankie and you can even add a big photo of your best friend - that's me by the way!
Most blankets can be thrown in the washing machine which is very helpful as mine keep getting dirty (I don't know how that happens though) but it's best to check that they can be washed easily before you buy.
My mommy says it's important to keep my blankets clean to keep bacteria from breeding. I have many blankies and I recommend you have at least two; one in use and one in the wash.
So this is a message to all you moms out there, cheer your little guy up and buy him a new blankie to keep your Cocker Spaniel warm during those winter months!
PS:  I also have a couple of dog blankets in my kennel in the garden - I like to go there and watch the birds pecking at the soil for worms.

More About Pet Beds and Sleeping Arrangements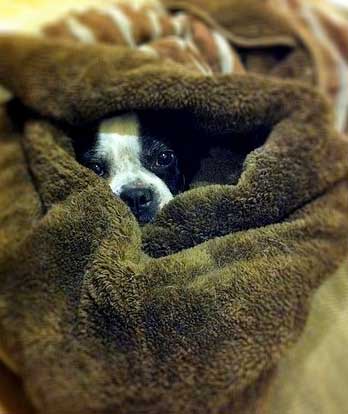 Can letting pets sleep in your bed be dangerous? Read this article to find out why and then make up your own mind.

Designer pet beds, rugs, mats, nests, to plain blankets - there are so many different beds - but before making your choice there are several points to consider...
There was a time when our mutts where happy with a couple of blankets thrown into a cardboard box! Today, however, novelty and designer beds are sold almost everywhere.
With so many beds to choose from, it's easy to get carried away and choose the first be you see. Want some tips on how to choose the right bed for your pet?

Enjoyed this page? Click 'Like'!

If you enjoyed this page, please click on the 'Like' button below and tell your friends about us. Thank you.

Top of Page