Dog Beds & Sleeping Arrangements

Dog beds can be bought in all shapes and sizes, you can even buy designer beds too - our Cocker Spaniels have never had it so good! If your dog could choose, which type of bed do you think he'd plump for?

Grass Dog Beds?
They may not have had cozy beds or warm blankets in the wild, but dogs soon learned that by circling several times before they lay down they could flatten the grass to make a comfortable resting place for the night!
Luckily for them, they no longer need to do this as their caring owners (that's you and me!) provide soft, comfortable dog beds and blankets for them.
However, in some of our pets, this instinct is very much alive and kicking.
Just watch your Cocker's actions before he lays down. If he's anything like mine, he'll circle a few times before flopping down on the rug or in his bed and then give a big contented sigh!
Sleeping arrangements for your Spaniel are important and with such a diverse range of cozy beds and blankets available, there's no excuse!
Too Many Dog Beds To Choose From!

There are so many different types to choose from, including designer beds, and so many variables to take into consideration that it can sometimes be difficult to choose just one!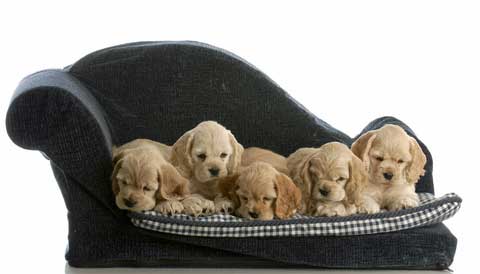 What will you choose for your Cocker Spaniel?
Will you plump for a padded dog bed (sometimes also known as a snuggler), a pillow, a doggie mattress, or a simple mat or a rug?
Consider which style of bed will best suit him, the bed's material, and its shape and size.
Where your Cocker sleeps may also have a bearing on your choice, for example, if he sleeps on your bed, you may not bother with a bed, but choose a blanket for him to sleep on. It will also help to keep your bedding clean too!
Of course your choice of bed for your pet is purely personal, but you can learn more about the many different types of dog beds to help you decide, and learn what to look for when choosing your pet's bed.

Dog Beds and Blankets

I don't know of any owners who don't have a selection of soft, welcoming blankets for their favorite Cocker Spaniel!
Dog blankets come in lots of interesting shapes and sizes to suit all types of pooch.
They come in rectangle, oblong, square, and circular, and range from very small (best for puppies) to very large which will suit our adult Cockers.
You'll also find a wide selection of materials to choose from, including faux fur like the one in the picture (he looks very cozy, doesn't he?).
They can be bought plain or patterned (and often very colorful) and you can even have your pet's blanket embroidered with his name, if you wish!
A blanket will help to keep your best friend warm and cozy, and once it's 'drenched' in his scent it will become a great source of comfort to him so go on, why not spoil him?

Where Should My Cocker Spaniel Sleep?

Where your Cocker Spaniel sleeps is very important.
In the wild, the alpha male will always have the best sleeping ground and it will almost always be higher than the others, as height reinforces the position of the alpha male (or alpha female).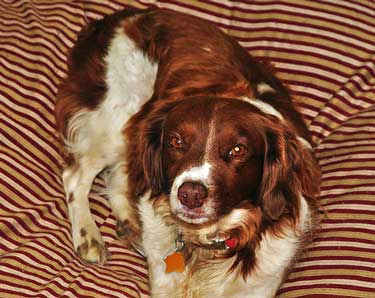 In his domestic life you my friend are the alpha male!
To avoid your Cocker Spaniel challenging you for the role of alpha dog, you must make sure he is always positioned lower than you, ie., on the floor, and separate sleeping arrangements for you and your Cocker Spaniel are extremely important if he challenges your alpha status.
However, if your Cocker has never questioned your status, and he gets down from your bed willingly and without question when you ask him to, you may prefer him to sleep on your bed.
Learn more about the controversial subject of sleeping dogs and whether or not they should be allowed to sleep on your bed. You can also read some of our visitors comments about this topic.

Outdoor Dog Kennels

Outdoor dog kennels are also a very popular addition to canine creature comforts - allowing our pets to enjoy more of an outdoor life without missing out on his indoor comforts!
If you're busy and you need a couple of hours to yourself, and you've a securely fenced garden, these allow you to safely leave your dog outside, where he'll get plenty of fresh air and exercise.

Enjoyed this page? Click 'Like'!

If you enjoyed this page, please click on the 'Like' button below and tell your friends about us. Thank you.

Top of Page