Buying Designer Dog Beds

Designer dog beds for our Spaniels, whatever next? There was a time when our dogs where happy with a couple of dog blankets thrown into a cardboard box!
Today, however, designer and novelty dog beds are sold almost everywhere.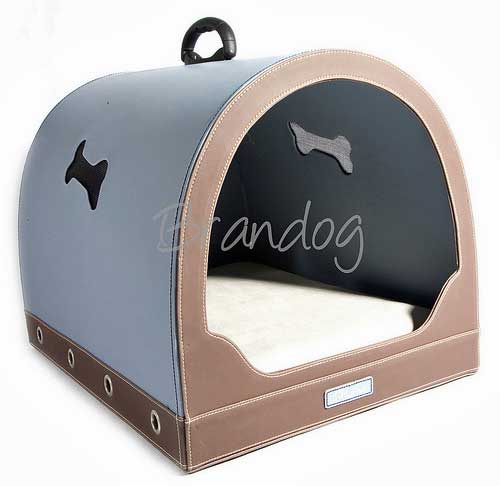 We buy designer clothes and we give our dogs designer haircuts, so why not indulge in a trendy dog bed? 
Our Cockers will be just as happy with a couple of dog blankets thrown into a cardboard box, so long as they're warm and comfortable, they don't really care.
They don't need a designer bed; they simply need a warm, cozy, place to sleep.
But, we love our Cockers and we love to pamper them and that's why we buy designer beds - we're indulging ourselves as well as our pets!
Don't get me wrong, I'm not saying that these don't offer the protection and comfort your pet needs, most of them do.
Many of them are very well made, using quality materials and offer a high level of luxury and comfort for your pet, but they can be expensive!
If you're on a tight budget, forget about designer, there are many reasonably priced dog beds available - you just need to shop around to get the best deal.

Styles Of Designer Dog Beds
If you decide you'd like to indulge your Cocker Spaniel (and yourself!) and buy a novelty pet bed, your choice is wide - you'll find designer beds in many different styles and sizes, and covered in various luxury (and novelty) materials and trimmings.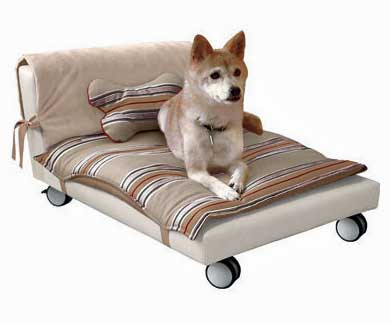 If you decide you'd like to pamper your pooch, you can choose from designs in leopard print, zebra-striped, and fake animal furs.
Choose from baskets covered in luxury fabrics with padded, removable cushions, and perhaps a ribbon or two, to miniature four-posters.
You'll find beds specially designed for little 'princesses', (sugar pink and white) and for little 'princes' too, (less pink and fluffy, more 'macho') and very luxurious.
You can buy dog beds shaped like Cinderella's carriage, racing cars, and baby carriages (complete with pink ribbons and bells) the list is endless for the creative mind!
There are even those designed to look just like ours, complete with headboard and pillows!
And...you can even buy designer dog beds styled to match your own furniture!
There are even some that look just like a piece of furniture; an armchair, a sofa, a side table or a small cabinet and they're so cleverly disguised, you'd never know they were a pet beds!
What To Look For When Buying A Designer Dog Bed
Whichever you choose, it's advisable to consider a few practicalities of buying a such a design piece before making your choice, such as;
How much can you afford to spend?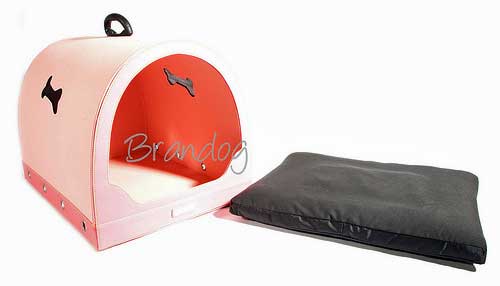 Does your pet like to chew? If he does, it may be inadvisable to buy a fabric bed but choose instead a metal or a plastic bed that he can chew without causing too much damage.
Check that any cushions or pillows are removable and washable to allow you to keep your dog's sleeping area clean. Even better if it's machine-washable!
If you intend to travel with your pet, is the bed suitable for travel?
Make sure you buy the right size for your pet.
Do you want to match your Cocker's bed with your home furnishings?
If you'd like more tips on choosing dog beds and how to make sure you buy the correct size of bed for your pet, follow the link.
Choosing Designer Pet Beds: Summary
At the end of the day, the choice of designer dog beds is yours.
Your aim is to make sure your pooch is warm and comfortable and sleeps soundly, and in his own bed, not yours!
If funds are low, don't be persuaded into buying something that you can't afford.
Your Cocker Spaniel will be just as happy in a simple pet bed or on a cushion or pillow with a couple of dog blankets thrown in for comfort!
Good luck!
Enjoyed this page? Click 'Like'!

If you enjoyed this page, please click on the 'Like' button below and tell your friends about us. Thank you.

Top of Page