Cocker Spaniel Breeders In Ohio

Our directory of Cocker Spaniel breeders in Ohio will help you to find breeders of English or American Cocker Spaniels with puppies for sale - good luck!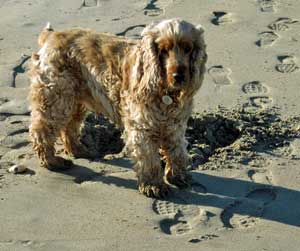 Breeders of Cocker Spaniels in Ohio

B&N Cocker Spaniels 
Birgit Hampshire and Neal Wenning
Celina
Ohio
United States
Telephone: (419) 790-9488 Birgit
Telephone: (419) 852-0881 Neal
Email Address: bnncockerspaniels@gmail.com
Website: http://www.bnncockerspaniels.com
Family Friends Kennel
Ryen Shiveley
Peebles
Adams County
Ohio (OH)
Telephone: (937) 515-8538
Email Address: shiveley_ryen@yahoo.com


Jaleann Spaniels
Blanchester
Clinton County
Ohio (OH)
Telephone: (937) 783-3778
Email Address: dwilson96@cinci.rr.com


Echoridge Cockers
Shelby
Cardington
Morrow County
Ohio (OH)
Telephone: (419) 864-1527
Cell: (419) 560-3372


Lin-Mar Cockers
Linda Scherer
Galion
Crawford County
Ohio (OH) 44833
Telephone: (419) 468-2308
Email Address: amcockerluvr@yahoo.com


Schiely's Cocker Spaniels
Beverly Schiely
6196 Columbia Road
North Olmsted
Cuyahoga County
Ohio (OH) 44070
Telephone: (440) 777-0409
Email Address: BevSchiely@aol.com


Tell-Tail Cocker Spaniels
Diane Donnelly
26993 Schady Road
Olmsted
Cuyahoga County
Ohio (OH)
Telephone: (440) 235 4237
Telephone: 44138 1709
Email Address: telltailcockers@aol.com
Website: http://www.telltailcockers.com/


Trinity Cockers
Cocker Spaniel Breeders
Susan Gray
12075 Sperry Rd
Chesterland
Geauga County
Ohio (OH)44026
Telephone: (440) 729-2246
Email Address: bsgtrinity@aol.com


Whispering Hollow Cockers
Kimbolton
Guernsey County
Ohio (OH)
Telephone: (740) 498-8834


Emerald Isle - Home of the O'Brien Cockers
Mary Ann O'Brien
5300 Beach Road
Medina County
Ohio (OH) 44256
Telephone: (330) 461-2265
Email Address: obckrs@aol.com


Joe-Mar Cockers
Vicky Martin
Cocker Spaniel Breeders
Brookville (metro Dayton)
Montgomery County
Ohio (OH)
Telephone: (937) 837-7942
Telephone: (937) 604-7316


Lake Erie Cocker Spaniels
Ruth Meacham
Weyhe Road
Port Clinton
Ottawa County
Ohio (OH) 43452
Telephone: (419) 797-2279
Email Address: pook10@frontier.com


Jameson's Lexington Cockers
Lexington
Richland County
Ohio (OH)
Telephone: (330) 618-7435
Email Address: cj@jamesoncockers.com


Riegelz Cockers
Rhonda Musgrave
New Riegel
Seneca County
Ohio (OH) 44853
Telephone: (419) 447-0533
Email Address: riegelzcockers@hughes.net
Website: http://www.riegelzcockers.com/


Ivy Patch Cockers
Matt & Maya Jordan
Akron
Summit County
Ohio (OH)
Telephone: (330) 703-0255
Email Address: jordanrabbits@sbcglobal.net

Graemar English Cocker Spaniels
Medina
Ohio
Telephone: 330-284-2042
Email Address: cas@apk.net

Deborah Shepherd
Brook Park
Email Address: chsuer@aol.com

Twin Pine Cockers
Ken Feller
Ohio
Email Address: kentwinpines@aol.com


As soon as you've had a chance to put together a short-list you'll be able to start thinking about how you're going to approach the breeders.
I'd recommend you speak to a couple to determine which one you feel more comfortable with as you may well be staying in touch after your bring your puppy home, so it's better that you like each other.
The best way to do this is to ask the breeder lots of questions about themselves, their kennels and their dogs.
Find A Good Cocker Spaniel Breeder

If you don't ask any questions about them or their dogs, the breeder may prefer to let their puppies go to someone who sounds more interested in their kennels and how the puppies are raised - you may lose out!
Asking questions will also help you to be certain that you're not buying a puppy from one of these terrible puppy farms that we hear of.
I've put together some ideas to help you with your questioning, hopefully they'll give you an idea of the types of questions you might like to consider asking.
Because you'll soon be bringing home your new puppy I'm sure you'll be so excited!
However, if this is your first puppy, or it's a long while since you've taken care of a puppy, you might just be feeling a little apprehensive.

Why not let me help you?
You'll find lots of helpful tips and advice on puppy care and we hope you find our step-by-step guide on toilet training your puppy very useful too!
Good luck and enjoy your new Cocker Spaniel puppy!

Enjoyed this page? Click 'Like'!

If you enjoyed this page, please click on the 'Like' button below and tell your friends about us. Thank you.

Top of Page